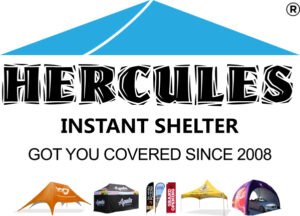 About Hercules Instant Shelter
Hercules Instant Shelter is your number one source of professional event shading and branding.
Found in 2008,  Hercules was a small, family-run business supplying pop-up gazebos to local market vendors in Wellington. Over the past decades, Hercules has become a trusted brand in the shade industry with an outstanding selection of supplies including pop-up gazebos, event marquees, outdoor umbrellas, promotional displays and more. We now have three local branches in New Zealand and two branches in Australia.
Customer satisfaction is our first priority. We are dedicated to providing the highest quality products at friendly prices, offering outstanding customer service and exceeding expectations. We hope you enjoy purchasing with us.
NZ Owned & Operated
Hercules is a 100% NZ Owned & Operated business is one that is owned and operated by people residing in New Zealand.
Built for New Zealand
All of our products are designed and constructed for the demands of New Zealand weather conditions.
One-Stop Source
A wide range of event promotional supplies, so that you don't have to search other places.
Quality Control
We work closely with our manufacturing facility which allows us to monitor and control the quality of all materials and components used in the construction of our product range, to provide customers with safe and high-quality products.
Customer Oriented Service
We have three store branches located in Wellington, Auckland and Christchurch. By offering local store showroom, quick nationwide delivery and hassle-free service, to ensure complete customer satisfaction.