Promotional Pavilion Marquees
A pavilion marquee is a versatile and spacious structure used for various events and occasions. These adaptable structures are suitable for a wide range of events, including weddings, parties, corporate functions, exhibitions, and more. Pavilion marquees offer a generous amount of space, providing ample room for guests, event setups, displays, and installations. Their open design allows for flexible layout arrangements, enabling customization to suit specific event needs.
Pavilion marquees are constructed using sturdy materials, such as aluminium or steel frames and weather-resistant fabrics. This ensures their durability and protection against the elements. The materials used in pavilion marquees are often waterproof and UV-resistant, offering protection from rain and sun. Additionally, these structures can be customized with optional features such as sidewalls, windows, flooring, lighting, and ventilation systems to further enhance functionality and comfort.
Pavilion marquees can be full-colour printed this allows businesses, organizations, or individuals to customize their pavilions and create a unique branding or promotional tool.
With their durability, aesthetic appeal, ease of assembly, and comfortable environment, they serve as an excellent choice for event organizers seeking a functional and visually appealing structure for their gatherings. Ideal for trade business, event hire business, cafe and restaurant, etc.
For our full range of event marquees, please click here to learn more.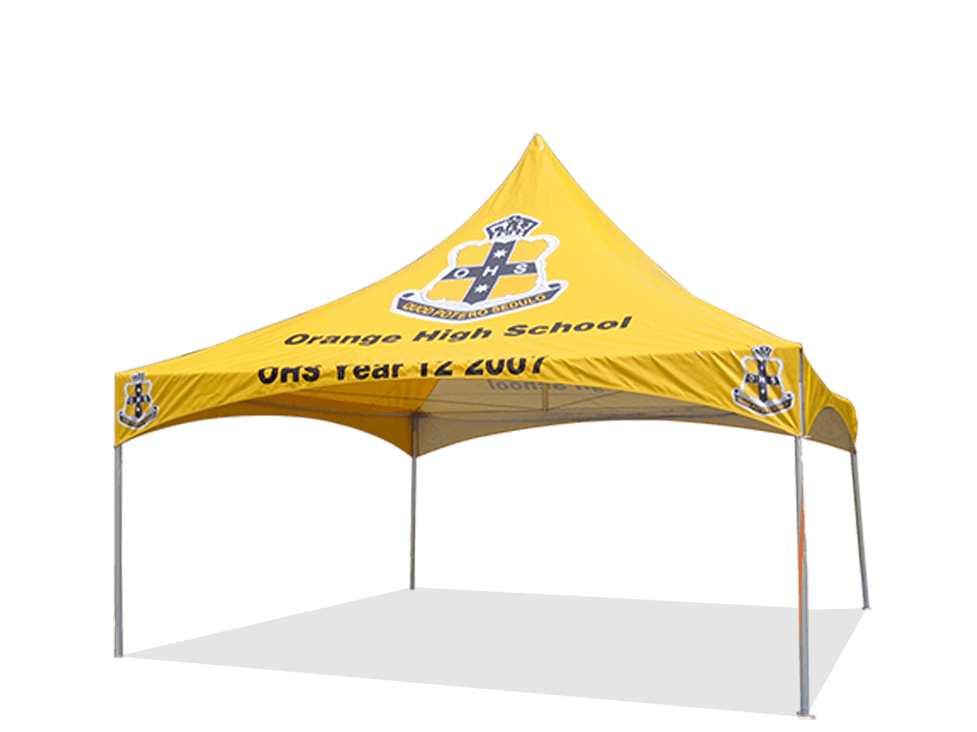 Pavilion Marquee – High Peak
Pavilion Marquee is affordable, strong and perfect for use at trade fairs, shows and exhibitions. The Pavilion frame is made from a robust 63mm circular 6063 T5 aluminium extrusion. A tension wire system is used to support the roof and also increases the marquee strength by bracing the frame. The roof is made from our imported Belgium Sioen PVC and will last for many, many years.
Simple Assembly is required.
Frame Specifications:
Clearance: 2.25m
Roof Tension System: Turn buckle tension system
Frame Tube Material: Aluminium (6063 T5)
Frame Tube Diameter: 63mm Thickness: 2.5mm
Feet & Connectors: Steel
Roof Fabrics
580GSM PVC
Custom Print
Full-colour digital
Package Includes
4 x Sandbags, 4 x Steel Pins
Size options
3x3m, 4x4m, 5x5m, 6x6m
OTHER PRODUCTS OF YOUR INTEREST