Elevate your outdoor events effortlessly with our Hercules gazebos. Opt for a pop up metal gazebo for a sturdy structure and hassle-free setup, ensuring reliability and convenience for gatherings of any size. From intimate occasions to grand settings, our versatile range has all gazebo sizes covered. Perfect for market stalls, promotions, or larger gatherings, our gazebos offer ample coverage while keeping things polished and professional, allowing you to elevate events of any scale, small or big.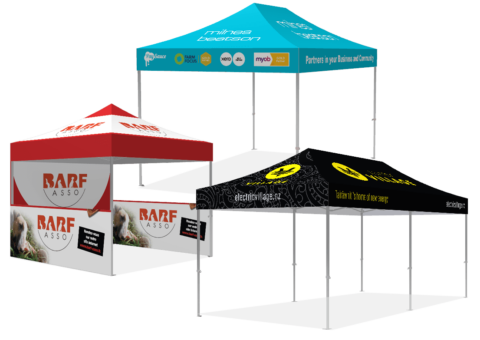 We Can Custom Print Gazebos
Are you specifically in search of a gazebo with branding? Tailor our gazebos with custom prints, ensuring they seamlessly align with and represent your distinctive brand identity.
Proceed straight to the page that meets your needs.
Combine All Sizes Desired to Create A Large Gazebo
Did not find your preferred gazebo size? or our ready-made gazebo sizes are just too small for you? We can help you design your customised gazebo size.
Thanks to the module system of our gazebos. The gazebos can simply be attached to the sides, without any technical knowledge. This allows you to combine two different or two identical sizes or more to create a larger covered area. Below are some recommended sizes.
Please get in touch if you need assistance in choosing the right gazebo size. Enquire…