Unique & Versatile Star Marquees
Star marquees, also known as star tents or star-shaped tents, offer a unique and eye-catching design that sets them apart from traditional tent structures. Their visually appealing star shape captures attention and adds a touch of intrigue to any large event or occasion.
Ventilation is a crucial aspect of comfort during outdoor events, and star marquees excel in this regard. The open design of the marquees facilitates excellent airflow, preventing the interior from becoming stuffy, even in hot weather. Attendees can enjoy a pleasant and comfortable environment throughout the event.
The branding opportunities offered by star marquees are another benefit worth mentioning. The large fabric panels provide ample space for customization and branding. Logos, graphics, or promotional messages can be printed on the panels, allowing businesses and organizations to effectively showcase their brand and enhance their visibility. Star marquees are available in optional single-peak and double-peak styles.
In addition to their unique design, Star marquees are designed to withstand various weather conditions. Constructed with durable materials, such as high-quality fabrics or weather-resistant materials, they provide stability and protection against rain and harsh UV rays. This ensures that events can proceed smoothly, regardless of the weather conditions.
If you are keen to buy unique and versatile marquees, look no further than our range of star marquees. For our full range of event marquees, please click here to learn more.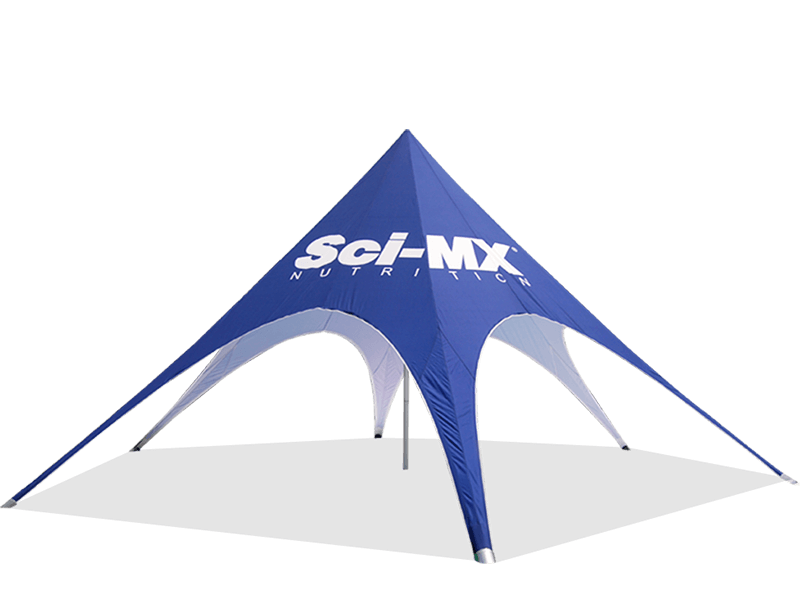 Star Marquee – Single Peak
Single Peak Star Marquees are a great way to make a big impact at shows and events. They are unique and provide great exposure for your brand ensuring that you are the centre of attention. The canopies pack down into a small convenient size for easy transportation, but once erected provide a large covered area ideal for gatherings, demonstrations and product displays.
Simple Assembly is required.
Frame Specifications:
Clearance: 2.1m
Centre Pole: Aluminium
Centre Pole Diameter: 63mm
Centre Pole Thickness: 2.5mm
Feet: Steel
Roof Fabrics
500D PVC Coated Polyester/580gsm PVC
Custom Print
Full sublimation/Full-colour digital
Package Includes
Steel Pins, Protective Cover
Size options
8m Dia, 10m Dia, 12m Dia, 14m Dia, 16m Dia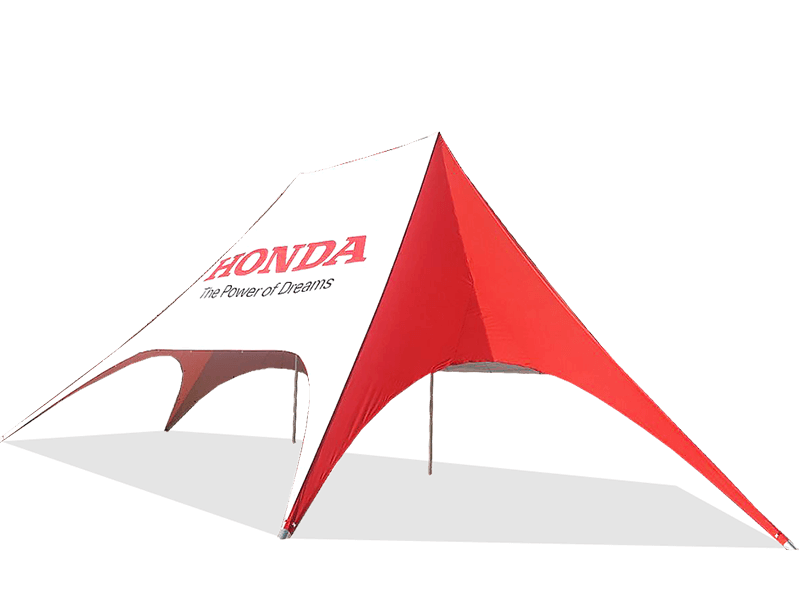 Star Marquee – Double Peak
Double Peak Star Marquees are distinctive in design. Their unique shape ensures they will be noticed at any event while also offering much-needed protection from the harsh New Zealand sun. This unit offers functionality, a stylish appearance and fantastic value! They are the ideal promotional marquee and have large, flat panels that are perfect for digital printing.
Simple Assembly is required.
Frame Specifications:
Clearance: 2.1m
Centre Pole: Aluminium
Centre Pole Diameter: 63mm
Centre Pole Thickness: 2.5mm
Feet: Steel
Roof Fabrics
500D PVC Coated Polyester/580gsm PVC
Custom Print
Full sublimation/Full-colour digital
Package Includes
Steel Pins, Protective Cover
Size options
13.6×8.6m, 16.4×10.4, 19x12m, 22x14m
OTHER PRODUCTS OF YOUR INTEREST