Our Buying Guide to A Pop-Up Gazebo
If you've been to an outdoor event lately—be it a tradeshow, a festival, or a friend's outdoor dinner party—you've probably seen a pop-up gazebo in action. Utilizing many years of experience within the Gazebo and Marquee Industry, Hercules Instant Shelter has offered the best Pop-Up Gazebos on the market.
If this is your first time investing in a pop-up gazebo, and you are not sure what to look for or which one to choose, we've put together this gazebo buying guide to get you started.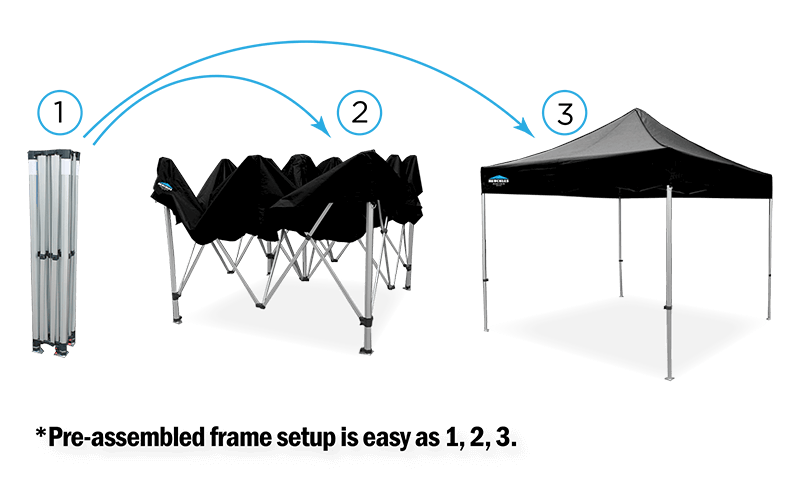 What is Pop Up Gazebo?
Pop-up gazebos have become the most popular modern temporary shelter in the world.  They are portable shade structures made from metal materials, easier to be erected than an ordinary marquee without needing any tools. They are available in a range of sizes and classes of strengths.
Hercules gazebos come in two main components—the frame and the canopy top—and are effortless to put together and set up. In 60 seconds, you'll be able to set up your own personal patch of shade. Not only are Hercules Gazebos easy to set up, but they are also easy to tear down and pack up into a box. The portability makes it easy to stow your gazebo for the cool months or transport it from point A to point B without wasting time or effort.
Hercules gazebos are not only perfect for recreational use but also suitable for businesses and commercial applications.

What to Consider When Buying a Pop-Up Gazebo?
Use: How often do you use your gazebo and what do you intend to use it for, and in what type of weather conditions.
Operation: Check the gazebo's weight and the open and close mechanism, as these impact the ease of operation and transportation.
Size:  Pop-up gazebos come in different sizes from small to large. Take into consideration the people that have to fit underneath, as well as accessories such as chairs and furniture, lighting, floorings, etc.
Canopy Materials: The best way to find out if a gazebo roof is right for you is to measure how thick the fabric is. Check the GSM value in fabric and the Denier(denoted with a 'D'), they both are thickness indicators. In general, the higher value, the thicker and more hard-wearing it's likely to be. A major chunk of canopy buyers prefers PVC-coated polyester canopy, which is manufactured with vinyl(PVC) coated with polyester, making it low-maintenance and lightweight and offering better protection against UV rays and rain and usually flame-retardant. 100% PVC canopy is a premium option that is completely waterproof, superior strength and heavyweight, especially suitable for some applications under direct sunlight for a long time. These are important things that you mustn't overlook.
Frame Materials: Most pop-up frames are made of either steel or aluminium. Steel is sturdy yet relatively inexpensive. Steel frames are finished with powder-coating for rust prevention and anti-corrosion, however, if the coating sustains damage can cause steel frames to rust. Aluminium frames, on the other hand, are naturally corrosion resistant. Aluminium frames are generally considered a better option for longer operating times.
Legs & Joints: The type of legs and joints on your gazebo impacts the overall structure and strength. You should know what exactly you are getting.
Replacement: Check if replacement is available for your gazebo, with the replacement frame parts and canopies supplied will save you the trouble and expense of having to replace the entire gazebo.
Why Buy Pop Up Gazebos from Hercules?
Hercules Premium Pop Up Gazebo Range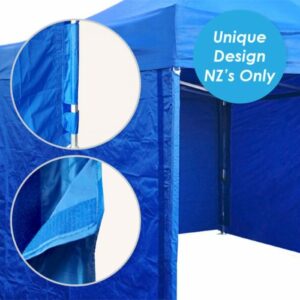 Full Velcro Wall Attachment:Easy & Secure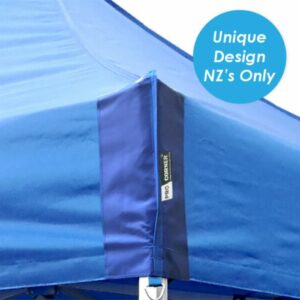 PVC Reinforced Protective Corners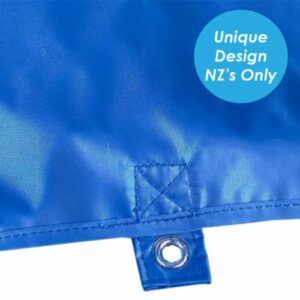 Eyelets Provided for Wall Anchor
Why Shouldn't Buy Cheap Gazebos?
A cheap gazebo is not designed to last. Some of our customers are not first-time gazebo buyers, they learned from past experience and acknowledge that choosing quality over price is almost always the sustainable choice because it eliminates waste and improves efficiency.
Are Hercules Gazebos Durable?
The Pop-up Gazebo by Hercules™ instant shelter is easy to erect and take down due to its unique frame structure and offers dependable sturdiness on all occasions. The canopy is manufactured using high-quality fabric which is waterproofed, fire retardant and has guaranteed UV protection to UPF 50+.
A Hercules pop-up gazebo can offer many years of dependable performance if properly taken care of. Please make sure you read our user instructions carefully before you start using the gazebo to prevent damage to the gazebo canopy due to misuse, accident and poor care.
We offer SIX gazebo frame options to suit different applications and two fabric options for our canopy. If you have questions about choosing the right gazebo and canopy for your use, please don't hesitate to ask our experienced Hercules team.
Are Hercules Gazebos Wind Roof?
We're proud that our range of alloy gazebos are certified great-strength gazebos with the ability to stand against a range of wind speeds between 50kph and 80kph accordingly and based on models. Each alloy model comes with an individual wind-action engineering report.
However, it is super challenging if keep it erected in extreme weather no matter how prepared you are, so please do NOT leave a gazebo outside in strong winds or unattended, as this can cause the gazebo and surroundings serious damage. Never forget the power of nature and its dangerous effects.
Can I set up a pop up gazebo in strong winds and heavy rains? or overnight unattended?
A pop-up gazebo is essentially designed for shade, not designed to withstand strong wind speeds and heavy rains. It is super challenging if keep it erected in extreme weather no matter how prepared you are, as this can cause a gazebo serious damage.
We advise you never to assume that there is no wind and to make sure that your gazebo is always properly secured by pegs and guy ropes as well as gazebo weights. Particularly in the wet season, storms and gusts of wind often arise unexpectedly and without warning. Please never leave the gazebo outside unattended.
You should also take great care of the pop-up gazebo during the low-level rain, make sure water does not pond on the canopy, this will help prevent breakage and collapse from the weight of water.
How do the side wall attach to the canopy?
Side walls can be easily attached to the canopy with a 50mm wide Velcro strap on the edge of the canopy.  Every wall has large Velcro strap that attaches to each other for a neat finish.
How many people can fit under a gazebo?
You can check out our guide below to find out what size gazebo will best suit your event. Capacity is reduced when guests will be seated.
| | |
| --- | --- |
| Size Range                        | People Standing  (Approx.) |
| 2x2m | 6 |
| 2.5×2.5m | 8 |
| 3x3m | 12 |
| 3×4.5m | 18 |
| 3x6m | 24 |
| 4x4m | 26 |
| 4x6m | 40 |
| 4x8m | 52 |
How big is the package? What should I do to get ready for my pick up?
The pop-up gazebos by Hercules Instant Shelter come in a folding size and are packed in a flat package,  the general package size is about 160cm long by 30cm wide, they will fit into a vehicle while a front seat and all the back seats are down. Otherwise, a UTE or trailer is needed. The package is heavy and definitely requires two people to carry a gazebo.
Please note the package length of a 4m gazebo is about 210cm. Please check out the package dimensions and weights below before collection.
SERIES 30 – 2X2M: frame 155x21x21cm 15kg, canopy 40x37x13cm 5kg;
HEX 45S – 2.5X2.5M: frame 157x25x25cm 25kg, 44x37x13cm 6kg;
HEX 45S – 3X3M: frame 157x28x28cm 30kg, canopy 44x37x13cm 7kg;
HEX 45S – 3X4.5M: frame 157x32x28cm 39kgg, canopy 56x36x13cm 9kg;
HEX 45S – 3X6M: frame 157x46x30cm 54kg, canopy 54x42x15cm 10kg.
HEX 45A – 2.5×2.5M: frame 157x23x23cm 15kg, canopy 44x37x13cm 6kg;
HEX 45A – 3x3M: frame 157x28x28cm 16kg, canopy 44x37x13cm 7kg;
HEX 45A – 3×4.5M: frame 157x32x28cm 21kg, canopy 56x36x13cm 9kg;
HEX 45A – 3x6M: frame 157x46x30cm 30kg, canopy 54x42x15cm 10kg;
HEX 45A compact – 3x3M: frame 110x32x32cm 16kg, canopy 44x37x13cm 7kg;
PRO 37 – 2.5×2.5M: frame 157x25x25cm 23kg, canopy 44x37x13cm 6kg;
PRO 37 – 3x3M: frame 157x25x25cm 25kg, canopy 44x37x13cm 7kg;
PRO 37 – 3×4.5M: frame 157x45x27cm 44kg, canopy 54x42x15cm 10kg;
PRO 37 – 3x6M: frame 157x46x30cm 30kg, canopy 54x42x15cm 10kg.
PRO 40 – 3x3M: frame 157x25x25cm 28kg, canopy 44x37x13cm 7kg;
PRO 40 – 3×4.5M: frame 157x33x25cm 38kg, canopy 56x36x13cm 9kg;
PRO 40 – 3x6M: frame 157x45x27cm 48kg, canopy 54x42x15cm 10kg.
PRO 57 – 3x3M: frame 157x32x32cm 31kg, canopy 44x37x13cm 7kg;
PRO 57 – 3×4.5M: frame 157x45x32cm 41kg, canopy 56x36x13cm 9kg;
PRO 57 – 3x6M: frame 157x56x32cm 57kg, canopy 54x42x15cm 10kg;
PRO 57 – 4x4M: frame 208x32x32cm 41kg, canopy 58x42x15cm 10kg;
PRO 57 – 4x6M: frame 208x45x32cm 59kg, canopy 58x54x15cm 14kg;
PRO 57 – 4x8M: frame 208x56x32cm 67kg, canopy 58x54x15cm 18kg.
Click here for more FAQs.