NZ's Premium Quality Flags & Stands for Sale
Printed flags go by various names such as wind blades, freestanding flags, advertising flags, and display flags. These flags are designed to capture attention and make a lasting impression on your potential customers, clients, and visitors. Our Hercules flag banners offer a diverse selection of sizes, styles, and six base options to choose from. They are an incredibly affordable and efficient method to promote trade shows, storefronts, exclusive events, and much more!
 Ideal for indoors and outdoors
Full-colour Dye-sublimation printing, UV-resistant inks
Knitted fabric/polyester silk (Single-Sided: 110 GSM, Double-Sided: 250 GSM)
Package includes: a piece of printed flag banner, heavy-duty fibre-glass pole & carry bag
Supply your high-resolution artwork and get a Free mock-up
Flag styles available: Teardrop, Feather and Rectangle
WE OFFER QUANTITY DISCOUNTS, BUY MORE, SAVE MORE!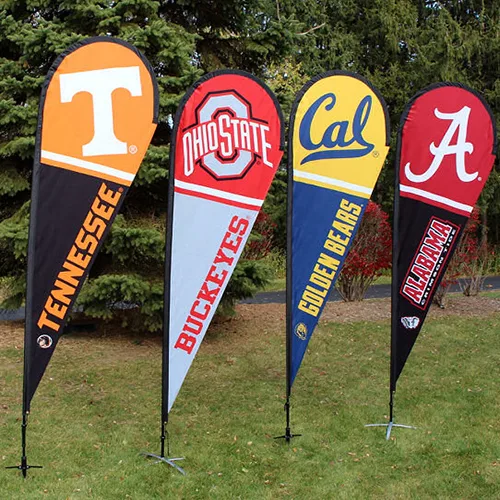 Flag Holders & Accessories
We Make Custom Printing Easy
We Can Print A Range of Different Areas
We provide diverse branding opportunities for our gazebos, allowing you to customize various areas. From the roof to the walls, half walls, and more, we offer printing options that suit your specific needs and preferences.
What Makes Our Customers Keep Ordering Flags from Us?
Experience vibrant and long-lasting prints: Our printed flags are created using full-colour Dye-sublimation print technology. We utilize imported UV-resistant inks that ensure your flags maintain their vividness and do not easily fade. Say goodbye to cheap flags found on the market!
Superior quality fabrics: We pride ourselves on using high-quality fabrics, including knitted fabric and polyester silk. Our standard order includes durable knitted fabric, which is strong enough to withstand both indoor and outdoor use.
Wide selection of flag shapes: Choose from a wide range of advertising flag styles that cater to your specific needs. Whether you prefer the elegant Feather flag, the eye-catching Teardrop flag or the classic Rectangle flag, we have you covered.
Quick and easy assembly: Our custom-made flags and banners are designed for convenience. They are lightweight and can be effortlessly assembled in seconds, thanks to our range of flag base options.
Portable and easy to transport: Our printed fabric flags can be conveniently packed down into the provided protective carry bag, making transportation a breeze. They are perfect for exhibitions, trade shows, field days, sporting events, corporate events, storefronts, and more.
Your comprehensive solution for bespoke displays: Look no further for all your display needs. We are your one-stop shop for custom gazebos, display flags, PVC banners, pop banners, pull-up banners, display backdrops, printed table covers, and more. We simplify the process for your business and your budget, eliminating the need to waste time searching for various resources.
Get in touch today with one of our specialists in Auckland, Christchurch and Wellington.