Gazebo Replacement Parts
Hercules Instant Shelter offers a standout advantage when purchasing a pop-up gazebo – our provision of gazebo parts. Whether you're seeking to purchase individual parts or require warranty coverage, we have you fully supported. Our extensive inventory encompasses a wide range of gazebo spares and replacement parts, catering to the entire Hercules pop-up gazebo series. Virtually every section of the gazebo is replaceable. When facing issues like frame wear, damage, or a worn-out gazebo cover, there's no need to discard the entire structure and buy a new one. You can easily replace the specific part and extend the gazebo's lifespan. Take a look at our list of available parts below.
We Repair, Replace & Sell Hercules Gazebo Parts
Here is a list of what's replaceable in your shelter:
Canopy
Complete Frame
Individual Truss Bars, Outer Leg & Inner Leg (sold separately)
Center Pole & Cap
Pull-pin Slider
Joints & Brackets
Screws, Nut & Bolt Kits
are available.
Please send your enquiry today!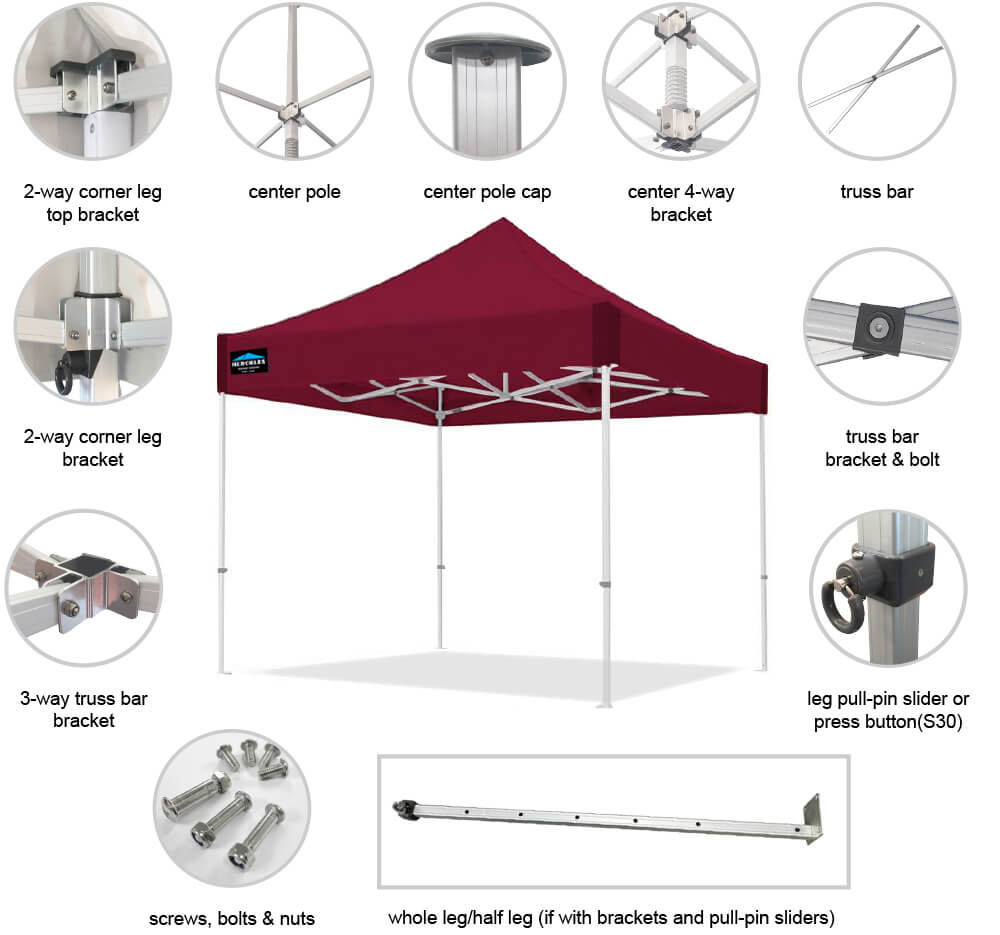 Buy Metal Gazebo Replacement Frame
To streamline your purchasing experience, whether you're seeking an identical replacement frame for your current Hercules pop up gazebo or opting for a new model to complement your Hercules gazebo canopy, we offer the convenience of purchasing metal gazebo replacement frames directly from our online store. Our secure payment options cater to your requirements. However, please note that we don't currently have replacement frames in stock for the basic gazebo series 30. For pricing and pre-order inquiries, please feel free to contact us.
If you're considering replacing a gazebo from a different supplier, I highly recommend conducting a test fit at our store before making a purchase. This will allow you to ensure that your current canopy fits perfectly onto our Hercules gazebo pop-up frame.