Custom made replacement canopy 
Hercules has been supplying pop-up gazebos and marquees since 2008. After more than a decade of growth, we have become the largest pop-up gazebos and marquees supplier in NZ. In order to make ourselves even better, we always want to know more about our customers and try our best to fulfil our customers' needs. Therefore, we spent a lot of times to talk to our existing customer and understand their needs. After years of understanding our customers, we found that many of our customers find it difficult to get a replacement canopy for their old pop-up gazebos which they bought from other suppliers. This is because most of the suppliers in the market have stopped supplying old version pop-up canopy and this has caused a lot of problems to the customers.  Most of our customers have no choice but to buy a whole new set of pop-up gazebo even though the old frame is still usable.
We have come out with a solution. We have made some improvements and our production team is now able to produce custom made gazebo canopy. We can supply gazebo canopies with any sizes and dimensions. It doesn't matter which supplier you got your gazebo from, just tell us the dimension of your pop-up gazebo, we can make a new pop-up canopy for you based on the measurement below.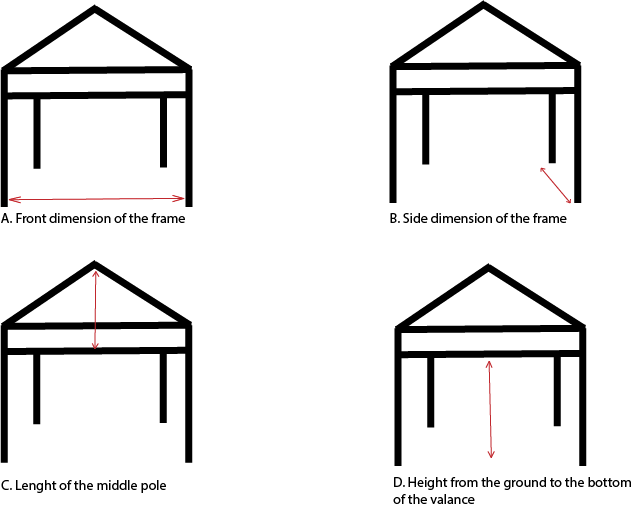 Give us the 4 measurements of your gazebo frame as given in the image and we can produce a replacement pop-up canopy for you.
There are also several reasons that you should choose Hercules replacement pop-up canopy.
PVC Coated Polyester canopy
When choosing a gazebo canopy, you definitely want something that is sun and waterproof to protect your goods, stalls or family. Our standard canopy is made of PVC Coated 320gsm polyester fabric and is thicker and better than other normal polyester canopies on the market. Apart from that, all seam points are double stitched for more strength and durability.
100% PVC Canopy
Apart from the polyester canopy, we also supply 100% PVC canopy for heavy duty use. Our 100% PVC canopy is made of 580 GSM PVC Premium fabric. Certainly, this quality is much better than the PVC Coated Polyester canopy.  All seam points are double stitched for more durability. If you need to put your gazebo outside for a longer time, you need to get a 100% PVC canopy.
Double-layer
All Hercules gazebo canopies are protected with double layers at four corners to make the canopy more durable and long lasting. Other normal canopies' corners might get ripped easily by the friction of the frame. So we strengthened our canopy protection at the four corners by adding one more layer.
Low Maintenance requirements
Since the maintenance of a shade canopy can be very costly, it's better to choose materials that are low maintenance and don't require much spending on maintenance.
We have improved and upgraded our products several times. We will continue to upgrade to remain the best quality in NZ.