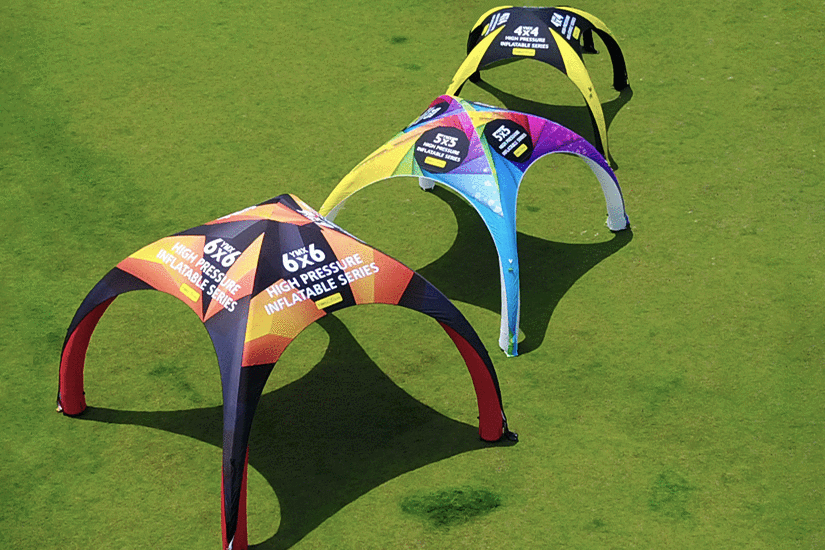 The Inflatable marquee is known as the most innovative marquee as it does not require a frame. All you need to do is just inflate it with an air pump. This marquee is designed for commercial and heavy-duty use.
The Hercules inflatable marquee range features a symmetrical and streamed lined design and makes it one of the most elegant promotional inflatable shelters in New Zealand.
The inflatable marquee provides the perfect branded solution or inflatable gazebo for your next event. The strength of this inflatable shelter comes from an internal tube, encased in a special lightweight and advanced webbed fabric that enables an exceptionally high internal pressure to be achieved. This high pressure means great strength and rigidity can be achieved resulting in a very stable structure in adverse weather conditions.
Hercules inflatable marquees are available in several designs, the classic inflatable gazebo, curved inflatable tent and the spider domes.
All our inflatable marquees can be custom printed to match your brand or message with a wide variety of fabric colours.
Hercules's new range of high-pressure inflatable tents and tents will satisfy your event. Our inflatable tents are lightweight, compact, quick to set up and, most importantly, strong and sturdy in its design
Get yourself an appealing inflatable marquee for your next event now